NINE INCH NAILS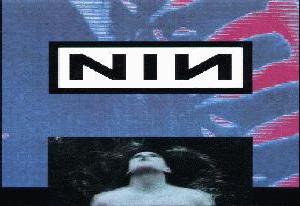 Official site: www.nin.com
Nine Inch Nails is by far my all-time favorite band. I was first introduced to the band way back in 1990. They have been at the top of the list ever since. Funny story: I actually had the chance to meet Trent Reznor on two separate occasions!! The first was around Christmas of 1994. NIN was in the middle of their Downward Spiral tour with Marilyn Manson and the Jim Rose Circus. I was working at a local Pennsylvania bike shop at the time. Around my birthday (November 14) Trent's father walked into the bike shop for some repair work on his bike. We got to talking about Trent and he asked me if I am going to the November 24th show in Pittsburgh. The concert was sold out before I had the chance to get some tickets. He said he'd see what he could do. I missed the concert. Around Christmas, who walked into the shop, but Trent himself! He wished me a happy belated birthday, and handed me a bootleg double cd of the show!! *(click here to check out the cover of the cd). What a rush. Wouldn't you know it, on Christmas eve of 2000, I was with my little bro Jeff. We were at the local Wal-Mart in Hermitage, PA buying some last minute gifts. We were heading over to the checkout counter when I spotted Trent pushing a shopping cart with his step-mom. Of course, I approached him, shook his hand and wished him a merry Christmas. He was very polite. Then I dashed out to my brother's car and grabbed some NIN cd's for him to sign. Then I realized something, we didn't have anything for him to write with!! Jeff and I ran around the store looking for a simple black felt tip marker. Finally, we found one and headed for the checkout area. Sure enough, there he was. I asked him to sign my Pretty Hate Machine cd. He kindly obliged. Trent also signed Jeff's Downward Spiral cd. *(click here to see the signed cd). Once again, I was on cloud nine! The funny thing is that the little cashier girl had no idea who he was!
Nine Inch Nails have released 7 major albums:
1. PRETTY HATE MACHINE - halo2 - October 20, 1989
2. BROKEN - halo 5 - September 22, 1992
3. FIXED - halo 6 - December 7, 1992
4. THE DOWNWARD SPIRAL - halo 8 - March 8, 1994
5. FURTHER DOWN THE SPIRAL - halo 10 - June 1, 1995
6. THE FRAGILE - halo 14 - September 21, 1999
7. THINGS FALLING APART - halo 15 - October 24, 2000
All of the missing "halo numbers" are from promos, imports, or demos.
For more info than you'd ever want to know about NIN, click here for their complete discography.
Return to - MUSIC