So what's new?
Friday, July 12:
Yes, my double duty work week is finally over. This week was the annual Trumbull County fair. Our fire crew is the "official" fire crew of the fair. I had to work the demolition derbies on Tuesday and Wednesday. Yesterday was the AMA Motocross race. At least I'm making some good money this week. Well, I'm off to join up with Mike and Matt. We are going to immerse ourselves in the wonders of the Youngstown scene (and also make fun of all the trendy, fake people).
Monday, July 8:
The pictures are up. Click here to check them out.
Sunday, July 7:
I'm back from my trip up to my grandfather's hunting cabin in the forests of central Pennsylvania. It was quite a relaxing three days. I had time to sit back and think things over. Pictures? Of course, you know me, I'll post the pictures within the next day or so.
Thanks for the backrub (and the company).

Thursday, July 4:
Happy Independence day!
Monday, July 1:
Message from the god of chronological order:
Hey, Jeremy, QUIT MESSING UP YOUR DATES, JACKASS!!

Guess what everybody, IDIOT CHRONICLES, CHAPTER 4:
Ironically, this one also involves my wallet! Can you believe that, because I'm still having trouble believing. Anyways, for the past few weeks, I found a nice place to store my wallet at work. Some place out of the way, where it won't get lost. Around 1:30 pm, we were called out to a fully involved car fire. I grabbed my gear, hopped on the truck, turned on my air tank, suited up, and raced to the fire. I was in one of the rear jump seats, so that means that I was the first guy on the nozzle. The driver runs the fire engine, and the front passenger (officer's seat) oversees the scene. Upon arrival, I snatched the nozzle, and rushed to the fire. I was waiting for them to charge the line (fill the hose with water) when Eric (the driver/truck engineer) yelled, "Wait, come here......never mind, get the fire!" I proceeded to put out the car fire. After the fire was out, me and the officer, Tim, hit some of the hot spots with water. While cooling off a hot spot, Tim turns to me and says, "How much money do you have in your wallet?" I looked at him, "Huh?" "Do you have many credit cards in there," he said next. I was completely dumbfounded. "Why are you asking me these stupid questions?" He then reached up right above the visor of my helmet and pulled out my wallet! Yes, stupid me, I've been keeping my wallet wedged underneath the visor of my helmet which I keep in my locker area at work. Fortunately, it wasn't damaged. I hope the credit cards still work! Somebody was watching over me today! Thanks goes out to the big man upstairs!
Thursday, June 27:
Check me out. I also added a link to my main page. The realization came to me today, that although this page is about me, there is nothing on here describing me. Well, now you got it.
Wednesday, June 26:
You watch movies, right? Everybody watches movies. I've been pondering the difference between real life and "real life" as portrayed in movies. Granted that some movies, like Monty Python or Spaceballs are a far stretch from "real." But, in most cases, in most movies, they try to portray real life characters in real life situations. After much thinking (and a wicked white russian), I've come to the conclusion that most of the movies are by no means even close to "real." Why, do you ask? They have happy endings.
Friday, June 21:
COINMONSTER TONIGHT!!! Hope to see you all there. Where? The Cellar that is.
Wednesday, June 19:
Big happy birthday shout-outs today for Dad and Julie! I wish you the best.
Sunday, June 16:
Do certain cd's mark a certain period in time for you? They sure do for me. For example, does listening to a certain cd or song take you back to a certain point in your past, or trigger certain memories of where you were and what you were doing when you first started listening to the song? On the way home from my parents house, I popped in "Amnesiac" from Radiohead and it took me back to last year when I was living in Kent. What a screw-up that was. If you want to gauge around when that was for me, click here and here. There are certain other cd's that do that to me. "Joshua Tree" from U2, "Show" from The Cure, Blind Melon's self titled cd, "Blood Sugar Sex Magic" by the Red Hot Chili Peppers, Pearl Jam's "Ten", "Nevermind" from Nirvana. Well, the list goes on. In some way, these certain cd's become even more valuable. They contain and preserve your past memories as well as the songs you've grown to love.
Enough with the deep philosophical stuff. Where did I put my glass of water?
Saturday, June 15:
Surprise!! How do you like the new design? For a while now, I've been playing with this "iframe" thing. This allows you to have a floatable frame on your page without affecting background pictures, text...etc. Enough of that technical mumbo jumbo. Anyways, please let me know how you like it!
Sunday, June 9:
Well, I made it home. The trip was long. I'm tired. I'm going to bed.
Oh yea, the pictures are up from the World Of Outlaws visit to Sharon Speedway. Click here to see them.
Friday, June 7:
I am now finally one with my wallet.
Thursday, June 6:
Happy birthday, Mom.
Idiot Chronicles, Chapter 3:
Well, to start off, our family is on vacation here on the Outer Banks, North Carolina. My youngest brother Jeff was going to stay here two days before leaving for his internship at North Carolina State University. I rode down from Ohio with Jeff in his new Cavalier. Well, we wished him good luck as he pulled out off the driveway and headed out on his 4 hour drive to North Carolina State (WITH MY WALLET IN THE CAR)! Needless to say, I'm here on the Outer Banks and my wallet is at NCU. Thankfully, Jeff is coming back here for the weekend. Hooray for me. The only problem is that I have no money to by my necessities (Michelob Light, Crown, Amaretto...etc).
Monday, June 3:
A little glimpse of my vacation: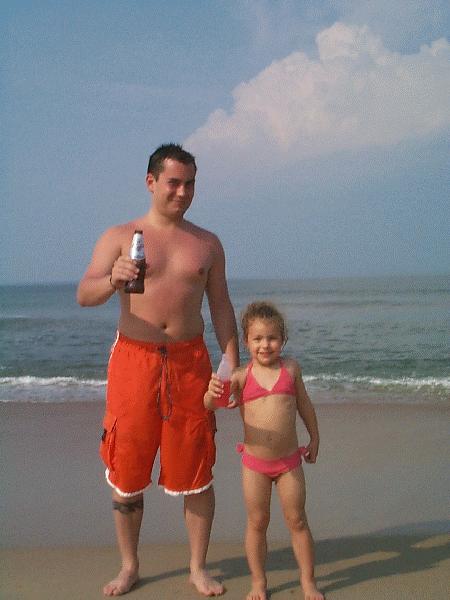 A small picture of me and my niece, Gaby, chilling at the beach.
Saturday, June 1:
Greetings once again from sunny Outer Banks, North Carolina. The trip was fast and uneventful. We just finished unpacking the car. Wait, why then am I sitting her on my stupid laptop? I'M GOING TO THE OCEAN!
**To read past months, check out the archive.