Wednesday, August 29: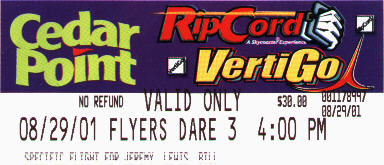 For all of you that thought I had no "cahonies" or however you spell that; guess what I did today. Yes, a bunch of us from the FD went to Cedar Point today. We had a blast!!! Not only did I master all of the coasters, a few brave souls and I paid the extra money and rode the new Ripcord and Vertigo. Check out the descriptions of these rides to see how balls-out crazy they are! Then why, do you ask, am I feeling "heartbroken" as my imood says for the day. Well, let me tell you, during my time at the Point, I kept seeing happy couples walking together, hand in hand. At times, it took all of my strength not to break down. I had that, and now it's gone. The worst thing is that I had no say in the matter. If you know me, it's quite a looooooong story. I think only one person can level with me (you know who you are, "AIM entrance = moooo"). Thanks for being there. You've made a world of difference!
Sunday, August 26:
Why do I even bother?
......happy 20th birthday Jeff.
Wednesday, August 22:
One week has passed and my life has turned a complete 180 degrees. As of Monday, I quit my job and moved back into the basement of my parents house. WHY...do you ask??? Well, let's just say that it is better off if I stay away from that area for a while. That's okay, because I like the Y-town area. The past two evenings I've been running and practicing with the Badger High varsity soccer team. My old classmate, Hugga, is the JV coach. It's a good feeling to be out getting in shape. Yes, I can still keep up with those kids believe it or not! Guess what, I've become somewhat of a cult topic on the local OH/PA sprint car message board! Follow the link to check it out! And to everybody who wrote, whoever that may be, I'm extremely flattered (a special thanks to Carrie for starting it up!!).
Wednesday, August 15:
I really hate it when somebody keeps letting you down. You give them chance after chance, and they keep confirming your worst fear (yes, it's true). For some reason, I just can't understand why people lie the way they do. The only consolation I receive is that I know that I am so much of a better person, and these types of people are destined to live out a hollow shell of an existence without ever being able to experience full, true feelings. Oh yea, you all know who I'm talking about!!! From now on, I am only trusting one person...MYSELF.
Monday, August 13:
Yes, I'm tired. The past few days I've been riding my Cannondale to work and back. I could definitely get used to this. Riding keeps me in shape, plus I DON'T HAVE TO USE ANY GAS!! What a shock. I'm so used to driving at least a half hour anywhere I go. Things are looking pretty good. The Sharon Nationals are coming up in a few weeks. I'm really looking forward to that. Does anybody know where I can get a good, reliable car for a good price? My truck is starting to kick the bucket. If you know of anybody, PLEASE let me know.
Friday, August 3:
Well, for starters, I decided to change the look of my site. Be sure to let me know what you think! The races have been cancelled for today so I have some extra time to write. That's too bad. I was looking forward to seeing "the girls" (Tammy, Tonya, and Carrie). Oh well. Maybe next week. Also, I found a new job as well as a new apartment. After August 10, I will be working at Eddy's Bike Shop. Yes, it will be great to be working with bikes again. Maybe it will inspire me to start logging in some miles. I walked in to apply for a job, and after 15 min I was already hired!! Not sure what I'm gonna do yet though, but it's full time and the wage is quite a bit more than what I'm making here at the FD. I'll be sure to let you know how everything goes!